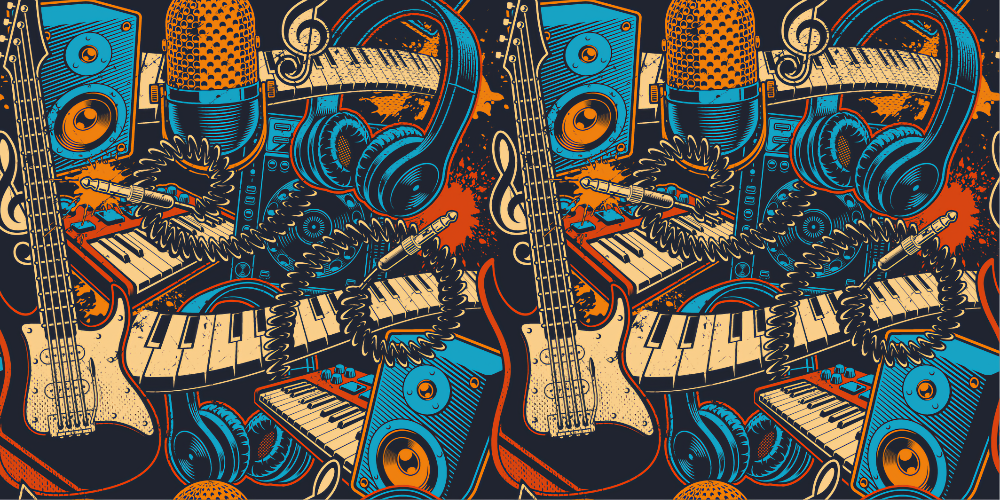 Genre of Music: Various Levels
Take, for instance, the genre of rock. Rock is a very broad term that encompasses many different types of music, some of which are actually pretty divergent from one another. Punk, indie, shoegaze, AOR, metal and many, many more all fall under the top-level genre category of rock but can each be considered individual sub-genres. This sub-genre category is usually more useful in terms of describing music to another person. For instance, telling someone that a band is a rock band is not as helpful in describing the sound as saying the band is a punk band (the description of "punk" is more useful in telling someone what an artist sounds like).
MUSIC GENRES
A music genre is a category (or genre) of pieces of music that share a certain style or "basic musical language" (van der Merwe 1989, p.3). Music can also be categorised by non-musical criteria such as geographical origin. Such categories are not strictly genre and a single geographical category will often include a number of different genres.
Categorizing music, especially into finer genres or subgenres, can be difficult for newly emerging styles or for pieces of music that incorporate features of multiple genres. Attempts to pigeonhole particular musicians in a single genre are sometimes ill-founded as they may produce music in a variety of genres over time or even within a single piece. Some people feel that the categorization of music into genres is based more on commercial and marketing motives than musical criteria.
John Zorn, for example, a musician whose work has covered a wide range of genres, wrote in Arcana: Musicians on Music that genres are tools used to "commodify and commercialize an artist's complex personal vision." Other artists feel that it is an artist's fault themselves if they make a body of work that can easily be put into a class shared with others. Some genre labels are quite vague, and maybe contrived by critics; post-rock, for example, is a term devised and defined by Simon Reynolds. Another example of this is video game music, which while defined by its media, can also represent its own style, as well as that of any other musical genre. Dividing music by genre does make it easier to trace threads through music history, and makes it easier for individuals to find artists that they enjoy.
Although there are many individual genres, it is possible to group these together into a number of overlapping major groupings. The rest of this page attempts to do that for a number of widely agreed areas. These definitions are relatively short and simple, even though they cover a large number of genres.
CLASSICAL / ART MUSIC
RHYTHM AND BLUES
ROCK
COUNTRY MUSIC
ELECTRONIC MUSIC.
ELECTRONIC DANCE MUSIC
ELECTRONICA
MELODIC MUSIC
REGGAE, DUB AND RELATED FORMS
PUNK MUSIC
HIP HOP / RAP
CONTEMPORARY AFRICAN MUSICHIGH-ENERGY
HOUSE
DREAM HOUSE
ACID HOUSE
GARAGE
CHICAGO
ACID JAZZ
DISCO HOUSE
TRIBAL HOUSE
PROGRESSIVE HOUSE
TECHNO/TECHNO-HOUSE
GABBER
TRANCE
GOA TRANCE
JUNGLE / DRUM N BASS
HAPPY HARDCORE
SEXCORE
BREAK BEAT
ENERGY ALTERNATIVE
AMBIENT