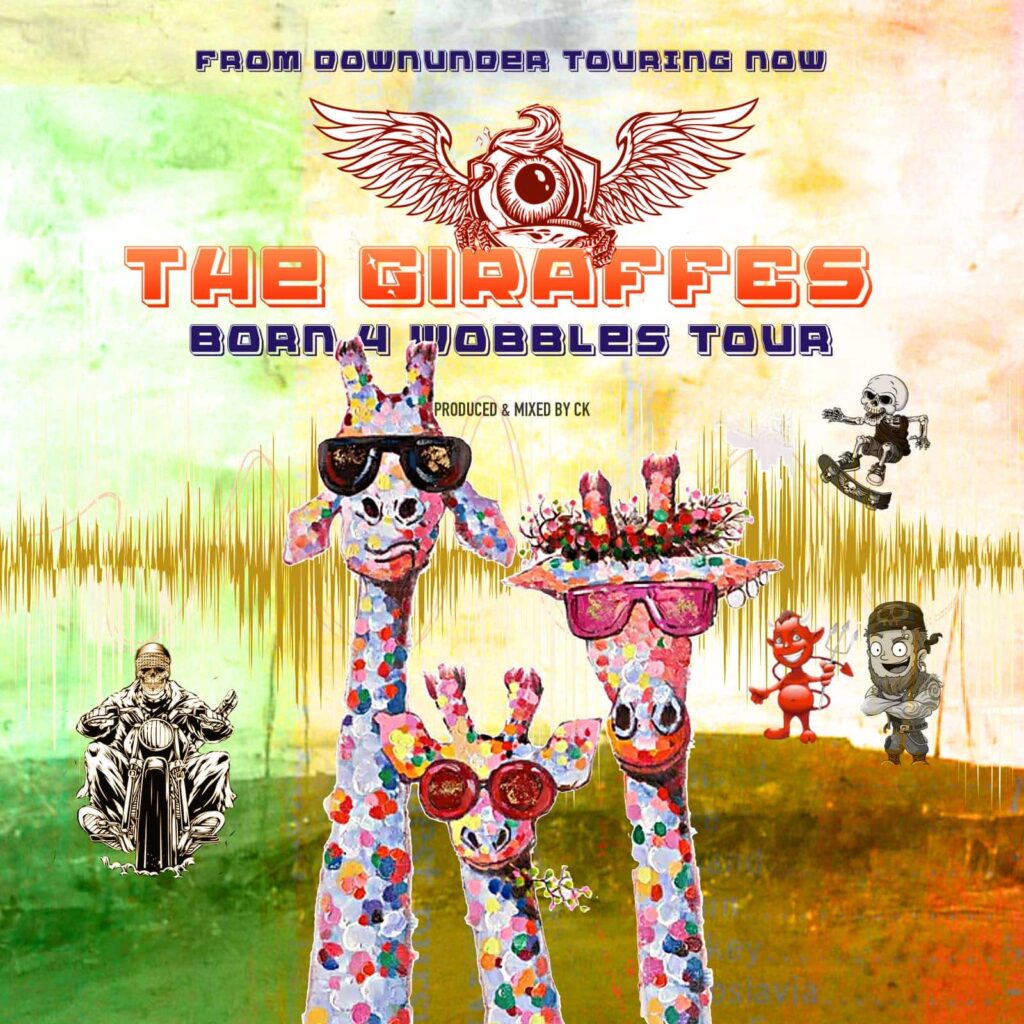 The Giraffes are one of the most controversial bands in the history of music with tales of drinking, death, and debauchery that go way beyond sex, drugs, and rock and roll. The Giraffes an Australian based future bass, nu-disco and dubstep music band founded in Hamburg in 2012. The band is fronted by lead DJ/musician Buzzer, German DJ/musician Electro and musician/producer Schulz.
In the 2014, music journalist James Wooble described the personality of Buzzer as "mad, bad, and dangerous to know." In 2015, Buzzer said that his image was "like a long shadow," implying that people don't know much about the real man, but instead focus on the things written in articles. 
We were lucky to get an interview with the leader of The Giraffes, Buzzer,  of the The Giraffes.
the giraffes born 4 wobbles tour
We asked Buzzer what he likes about touring:
"If you were to poll a hundred roadies on why they chose to spend life living out of a suitcase, another life in the back of a truck, and yet another being the unsung hero of that big show that entertains thousands—never truly getting the accolades they so richly deserve—you'll get a hundred different answers. The list of reasons is as long as the winding road they live on. I got on the road for one reason and one reason only: pussy."
He added…
"Sure, the love of music is what initially attracted me to the bright stage lights, but the moment I discovered the magical, almost hypnotic power that a laminated backstage pass swinging from a lanyard had on wide-eyed, high-heeled, short-skirted women, the love of the spectacle suddenly dissipated."
Pause
After Looking out the window for at least 2 minutes he continued…
"When I was on the road, I made it my mission to see, do, taste, visit, experience, and, above all, f** everything I had only heard about in lyrics and read about in books.
We asked Buzzer what was his favourite live gig of all times:
"To pick one single night as the craziest is like trying to pick your favourite child. Each night was special in a unique way. I've had beautiful women on dark corners of the stage, in back alleys, fat friends' cars, bathrooms—everywhere, anywhere, anytime. The power of the musician enticing ordinary women to do extraordinary things, all for a chance to meet the band: sex with a stripper and her broken leg, romps with married women, and two girls who served me waffles performing acts so wicked I'm certain they were illegal in most states. On the road, every day was a holiday—and every night was a p*** flick."
Unfortunately the interview got interrupted and canceled by our ABX radio producer as he didn't like the language being used and called Buzzer a lunatic and he belongs in the nuthouse. We hope you like the recording of the GIG when touring in Brisbane. 
Official statement why the radio interview got interrupted and cancelled by the ABX radio SEO, Trevor McBoring: Under no circumstances will  ABX radio air such nonsense trying to encourage young having sex prior before getting married. 
Produced and Mixed by Christian Krauter
As always I hope you enjoy my mix and thank you for your support.